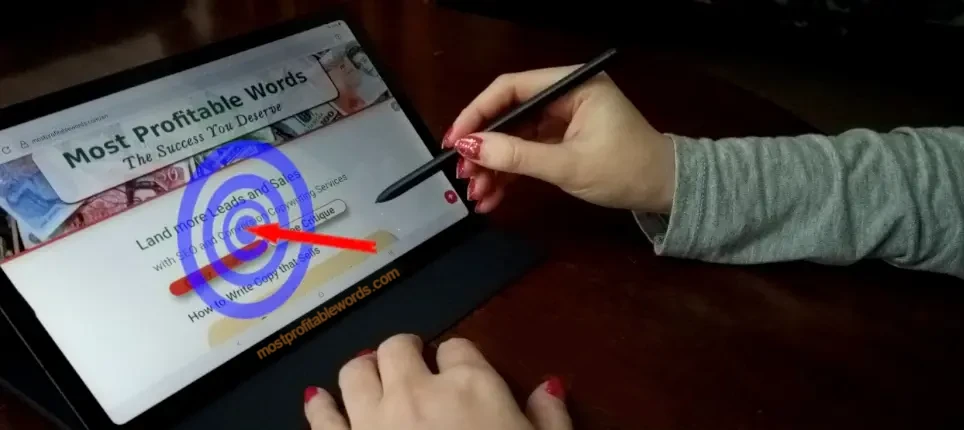 Copywriting for Content Marketing
Although content may refer to all type of information you display in front of your customer, copywriting for content let you present your message from an angle that sounds more entertating, convincing and persuading, doing two tasks at the same time: inform and sell.
June 26, 2023
When you think of content marketing you probably think of articles, guides, e-books, videos and infographics. And you're right!
So, why do you need copywriting techniques in content marketing?
After all you're not selling.
You're just informing and entertaining.
Even if your primary goal is to inform your secondary goal is to sell your product but, the trick is content marketing help you avoid hard selling.
Great content is the best sales tool in the world —Marcus Sheridan
In marketing, you...
always need to attract clients with compelling headlines and jaw-dropping images.
have to stand out in a crowded market.
should persuade your reader to move forward to the next step with a call to action.
So, copywriting for content marketing is your best ally.
What is Content Marketing?
Content marketing is a marketing strategy to attract and engage your target audience with the aim of staying in contact with them until they buy from you. This is a process of creating, publishing and sharing information with the goal of building brand awareness, trust and authority in your niche.
Content marketing reaches people providing information they are looking for without hard selling.The aim is to build a long-term relationship with those interested in the kind of of products or services you offer.
Your content should entertain and inform in a way people want to hear again and again from you.
Content marketing helps you educate your audience. Answer frequented asked questions, share the experience of other customers, address their pain points and showcase how your product helps customers overcome their problems and transform their life.
Social media posts,videos, guides, articles, white papers are different types of marketing content that should be created to resonate with different groups of people.
The basic aim of content marketing is to showcase your expertise in the field and how much you care about your customers.
No hard sales.
Content Marketing Goals that Boost your Business
The most important benefit marketing content brings your company is to be in touch with potential customers, provide useful information they are looking for without applying hard selling techniques.
Brand Awareness
The first goal every company should have is to build brand awareness. You should be talking to potential clients in a way that says your company exists and can solve certain problems they suffer from. That audience should understand why your company is their best choice to overcome their pain.
How can you do that?
Talk about their problems and how you can solve them easily. People who have that problem will be able to relate and will pay attention to you.
Some will sign up quickly to your newsletter or notifications while others will take longer. That means it's essential to display content marketing consistently to expand your lead database and convince those who need more information before taking a decision.
New Customer Acquisition
No clients, no business.Right?
You need customers to keep your business alive. One of the most important goals of any business is lead generation, and customer acquisition, attracting those who need your service and persuading them you're the best choice for them.
Brand Loyalty
You achieve this brand loyalty, offering value constantly because you want your customers to feel good about your brand and you want them to buy from you over and over again.
The basis of brand loyalty are to give more than expected. This will surprise client in a positive way. Your service will never be questioned. Stay in touch regularly informing them about companies news, updates and personal changes if appropriate . This way they don't forget you or choose your competition next time they need a product similar to yours. Be consistent in the way your present information and act. Customers have to recognize your company. . Offer rewards to your loyal customers.
SEO Ranking Content
SEO ranking content refers to the position your content gets on the search engine result pages (SERPs). The higher you rank, the better because this way more people will see your website and click your link.
Search engines love content, and content marketing is a great tool to display not only high-value information but well-optimized pages as well.
If your content is optimized you have the chance to be found in search engine results, reaching new people every time.
Education and Engagement
Your marketing content gives you the opportunity to engage potential customers and old customers with interaction such as asking for feedback,running contests, develop a loyalty program and much more.
One of the most relevant goals of content marketing is to give details about your company's services, you can show the steps to follow to achieve a certain goal with your product, what to expect from your product,
Types of Content Marketing

Blog Posts
A blog post is a piece of information written with the purpose of telling your clients or answer certain queries.They generally have between 300 words and 1,000. They are published on websites or platform.
Blog posts are generally written from a personal perspective based on your own experience. It can also include facts, charts and visuals. It has the shape of a journal entry and new information is added regularly.
E-books
These type of reports have the shape of a digital book. It can be as short as 20 pages and as long as 400 words.
Today, e-books tend to be shorter, about 100 pages maximum. They help you deal with a topic in depth and show your expertise. You can self-publish your e-books via your website or professional publisher platforms such as Amazon and Smashwords.
E-books are great tools to impress your potential customers. They can be distributed for free just to help potential customers learn about you and your services, and build authority and trust.
Videos
96% of marketers say video is an important part of their marketing strategy , according to Dash app.
52% of people are more likely to share video content than other types of content like social posts, product pages and blog posts.
Videos are popular because they are engaging, entertaining and easy to follow. People prefer visuals over text. The human brain processes images almost 60,000 times faster than written words.
Some types of videos last under 1 minute. Their popularity is great because this type of videos explains you a topic in a short, compelling and entertaining way. Long videos of about 1 hours are generally educational and people who are really interested in that topic will certainly watch it thoroughly.
Explainer videos are great marketing tools because they help marketers explain what their products or service are about.
And it works wonders on landing pages.
Infographics
55% of marketers create social media infographics more than any other visual media. According to demandsage.com
Infographics are persuasive and offer variety to the eye. They present complex information in a simplified and pleasant way.
Visuals help people grasp the message quickly without much effort. Visuals motivate people and have a stronger impression on the human mind. Infographics show you as the expert and are easier to share.
Social Media Post
A social media post is a piece of information such as text, images or videos published on a social media platform.
This type of snippet let you stay in touch with your online community. You may inform your community about your daily activities, your sea vacation, your coming new product, ask for advice or share an important moment in your life such as your children' graduation.
Your posts have to be planned in advance and carefully design to create an impact on your audience.
When your community is engaged your post will get likes, comments and share. The comment section can turn into a public casual conversion or you may prefer to use direct private messages.
User-Generated Content
when you snap a pic and share on your feed or when you upload a video of yourself opening a box containing an important product for you. Spontaneous reviews, complaints and questions are all user-created content.
The great benefit of this type of content is that raises credibility and trust in your company because somebody who doesn't belong to your company is giving their opinion about your product . People tend to trust this kind of comments. This can create a buzz and engage people in connection to your product and company.
If the post speaks about your product positively is a great opportunity to show what people think about your product and company.
If a client publishes a complaint about your company or service, it's also an opportunity to show that you don't avoid problem and are quick to solve the problem and compensate the client in a way that he will feel satisfied.
Create a Content Plan
A Content action plan is a written document that details the tasks and resources needed to achieve a goal.This plan is part of your marketing strategy and marketing plan.
A man who does not plan long ahead will find trouble at his door. – Confucius
Your content plan should clearly state details about how to achieve a goal with content.It should include:
What content should be created
When should be created
Where will it be published
Why will it be published
Who's responsible
Results: measure if your goal has been achieved or not.
Resources: budget and qualified staff
Content Plan Example
Let's suppose you have a business account on Instagram and you want to increase brand awareness.( goal) Then, you have to consider:
What: a reel about a customer who has achieved his goal and transformed his life with your product.
When: date and time according to your audience presence online.
Where: on Instagram
Why: because you have a large community and reels works very well.
How: the social media manager will supervise the script and images to be used. The graphic designer will finally create the reel.
Results: The amount of likes your post got from people who doesn't actually follow you. You can also consider if there was an increase in your reach.
Resources: Money to pay a graphic designer, copywriter, photographer and stock pictures, or the in-house staff qualified to do the
task successfully.
Social Media Content Marketing Calendar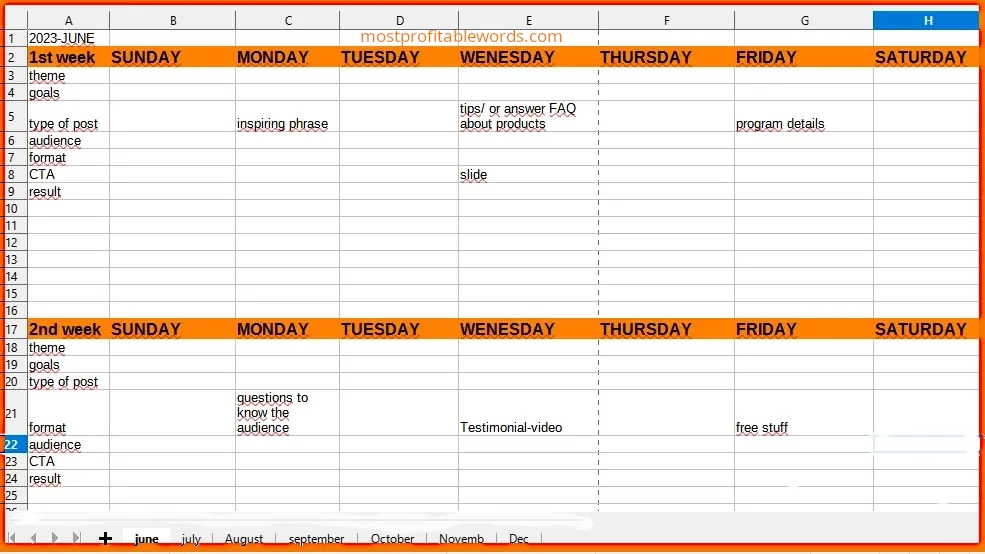 Copywriting for Content Marketing
Effective content marketing has to include copywriting techniques because messages have to resonate with your audience, knowing what their pain points are and what makes them tick.
You also have to be consistent in the use of your brand voice and tone and provide value to the customer while building up a long term relation based on trust and authority.
In a world full of ads popping up in front of readers and a short attention span that's shrinking every day, content needs to display an intriguing and attractive headline. This is a rule of thumb.
That magic message, your headline, speak straight to their hearts and forces them to stop and pay attention. They've found some hope and want to learn more because they've just discovered a path that can help them resolve their problems or make their dreams come true.
Content is mostly informational material but at the same time has to entertain and fascinate. That's the only way to retain your reader with their eyes glued to the screen.
And, last but not least, if your reader has reached the end of the article, you have to display a call to action to have the opportunity to move them to the next stage on your sales funnel and be able to offer deeper information about your product or service.
Conclusion
The days of hard selling are gone. People are constantly bombarded with offers, ads and calls to actions. They neglect this kind of approach most of the time.
On the other hand, people are always looking for products and services that can solve their problems, improve their lives and make them more successful in different areas of their lives.
One way to meet potential customers and without creating a repelling reaction is to stay in touch with them through content marketing. That's why different types of content that inform and entertain potential customers while they consider different options before taking the final decision.
You can explain what your product does, how to use it, the benefit of choosing your brand and much more. At the end of each piece you can include a call to action.
If somebody has gone through all your information you have published regularly, it's more likely they'll go a step further and subscribe to your newsletter, schedule a consultation or simply buy from you.
This is soft selling. People hate to be sold but they love to discover and decide what brand is more suitable for them.
That's the job your content marketing has to do.