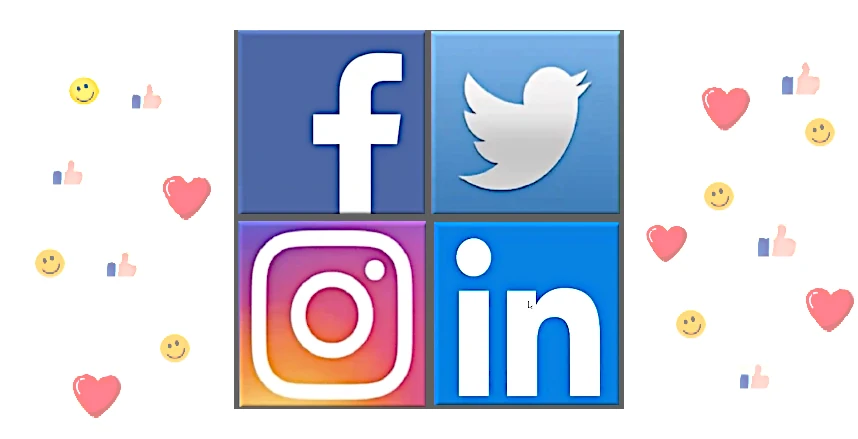 Copywriting for Social Media
Copywriting for social media is an important communication tool because it helps small businesses owners to add value to their products or services, enphazise their brand's values and project a consistent public image.
May 15, 2023
Social media copywriting is a great tool to deliver powerful and simple messages that add value to your products, making them memorable and more desirable.
This message should catch visitors attention and persuade them that the benefits your product offers will transform their life, leaving the pains of today behind.
Your social media communication should carry your brand's voice and be aligned with your business goals. This profitable copy will also help you break through the market noise and stand out from your competition.
To boost even more your social media content, add professional images that enhance the core message, creating the perfect post that will get lots of likes, shares and even become viral.
But before thinking about copywriting for social media, let's have a look at other elements that will help you shine on social media platforms.
What is Social Media?
Public online platforms where people meet casually. Each platform has its own differentiator and that makes particular audiences behave differently.
Social media platforms are the best tool small businesses have to be in contact with their audiences in an effective and cheap way.
To get quality leads post valuable content that answer their questions. Target your audience's needs and pains, show your expertise, and turn your business into the resource your audience needs to succeed.
Facebook is still the most frequented social media,with an older audience and much room for conversation and written communication. According to Datareportal.com, In January 2023 Facebook monthly active users in the world are 2.963 billion.
Twitter is mostly used to be in touch with people and share your thoughts. According to BankMyCell Twitter has 450 million monthly active users as of 2022.
Twitter is a great platform to use for customer service, as you can offer quick, effective and visible support to your customers and prospects as customers today expect a quick answer from companies.
Instagram provides the perfect visual experience to users, letting you connect with your prospects and customers, and highly engage them. With over 2.35 billion monthly active users, According to Demand Sage, Instagram is the perfect social media platform available to get qualified leads.
LinkedIn is the international largest professional network on the internet. With 930 million members around the world, it's the perfect platform to connect and develop professional and business relationships, creating a worthy network of contacts. Linkedin is a wonderful platform to find a job, to research companies, build your brand, showcase your expertise publicly. Publish problem solutions, opinion on your industry development, insights and expertise.
How to Choose what Platform to Use?
You should learn where your ideal client hang out and turn up on that social media platform, create a strategy and connect with them.
If you still don't know where to meet your ideal customer, create a buyer persona profile and research what their pains, ideals, aspirations are and get ready to talk about that with them.
If you have to gather information about your prospects,you can:
Use online surveys to get information straight from your website visitors or your social media followers and fans.
Make use of Google questions
Quora
Yahoo Questions
Twitter hashtags
Reviews about products similar to yours
Take part in Facebook groups
Visit their social media profiles
Read industry reports
Social Media Strategy
Based on the idea that you've already defined your brand, your identity as a business, it's time to create a strategy for social media.
A social media strategy is a PLAN that describes:
your social media goals: what you want to achieve
Your social media tactics: how you will achieve them
Your social media KPIs ( Key performance indicators) how to measure your success.
Most common goals for social media are:
Brand Awareness
You want people to learn about your business and have it on their mind whenever they want to buy a product similar to the one you offer.
Community Engagement
One of the purposes of your social media presence is to interact with your audience. Be a source of helpful information and positive contribution to their life. Make them dependable on what you offer.
Website Visitors
Being your website the heart of your digital existence, your social media post and interaction have the goal of making people want to know more about your brand and land on your website.
Leads and Customers
The purpose of all this social media activity is to get leads that will turn into customers in the near future. Social media platforms are the ideal place to meet prospects and let them know about the benefits your product and business offer, how you are different form your competition.
How to Create a Social Media Strategy
If you don't know where to start to create your social media strategy you can answer the following questions.
Who are your customers? Depicts them thoroughly

Where do they hang out? What platforms do they prefer?What are their pains?

What do you offer and why should your audience care? Bear in mind your value proposition

What social media goals will help you grow your business? Do you want to increase visibility, traffic to website, followers etc.

How often will you communicate? Determine the frequency you'll post on each social media platform according to the day of the week and time of the day most of your audience is online to maximize impact.

What type of post will you publish? Choose whether you'll publish visuals, videos, blog post or a mixture of them.

What is the objective of each post? For example you'll publish some testimonials to increase credibility., Offer something for free in exchange for emails to increase your email list.

What will you measure? You can measure, likes, shares, comments, whatever gives you feedback to learn if you're on the right path or you have to change something.

What resources do you need to do this task? Person in charge, content schedule, tools, budget.
Elements of a Good Social Media Post
No matter whether your social media post is a video, story or a picture the tone of your post should be positive, the content has to be entertaining or informative, keeping the overall organization of your social media message short and simple.
Each post should have:
A compelling headline: Start with a question, a provocative thought or a striking fact that make them stop and say to themselves, I want to know more about this.
A high-quality picture: The image used should be in harmony with the overall message of the post. Colorful and in high definition, the image will add interest to your post. Include pictures where people look happy using your product or service. Super professional pictures suggest the high-quality of the product or service.
Copy : Use the audience's language to engage them emotionally with a message that resonates with them. Bear in mind some of the most popular copywriting formulas such as AIDA( attention, interest,desire,action), 4 ps.( pain, promise,proof and push), 4 us.( unique, useful,ultra-specific,urgent) and more.
A call to action: Tell your audience what to do next to get those benefits your product or service offer today. Avoid using calls like click here or learn more. They are too general. Try to be specific and use your call to action to give a new push to your customer.
Your Messaging
Whenever you communicate with your audience on social media platform, remember to use your core messaging
Your core messaging depicts how you want your business to be seen, who you are, what you stand for , what you do, how you do it and why people should care.
Your core messaging should include your value proposition and how you're different form your competitor. Express these ideas succinctly and be consistent in their usage in all your business communication.
Copywriting
Messaging is what you want to communicate to your audience, how you position yourself in the market, while copywriting is the usage of language that will communicate that idea in a fresh and convincing way.
For example, let's suppose you sell exclusive European accommodation for tourists with butler service.
Copywriting can use the words premium, exclusive, not for everyone, red carpet service, 7 star service and so on.
The great value of copywriting is that helps you present your core messaging in different ways so every message seems fresh but always includes your core messaging .
A good copywriter can help you not only adjust your copy to a specific platform but also determine the hierarchy of different statements and graphics in the ad to maximize success.
Conclusion
So, to be successful on social media platforms you need the help of a professional copywriter to develop a clear strategy that includes your goals, tactics and metrics. Add your business personality, core message and enhance all these ingredients with copywriting for social media.
Struggling with social media copy?