A Digital Marketing Plan to Drive Profit
The analysis and organization of your marketing strategies together with effective communication create a powerful plan of action to achieve your deserved success.
March 15, 2023
What is a Digital Marketing Plan?
A digital marketing plan to drive profit is the written description of your goals, objectives, strategies and tactics to promote and sell your products or services online.
This written document details what you are going to do to make your products attractive to the public and be demanded in great numbers.
A marketing plan helps small businesses discover what digital marketing areas must be the first to invest time and resources to promote their products.
The digital marketing plan is part of the general marketing plan that details your approach to reach audiences online and offline and make them aware of the transformation your products may bring to their life.
Offline marketing activities consist of print ads in newspapers and magazines, road billboards, direct mail branding, and TV and radio advertisements, press release, flyers and brochure, face to face activities such as fairs.
At the same time, the marketing plan is part of an overall traditional business plan that describes an overview of the company's current state and future growth, financial projections, management team and marketing of products.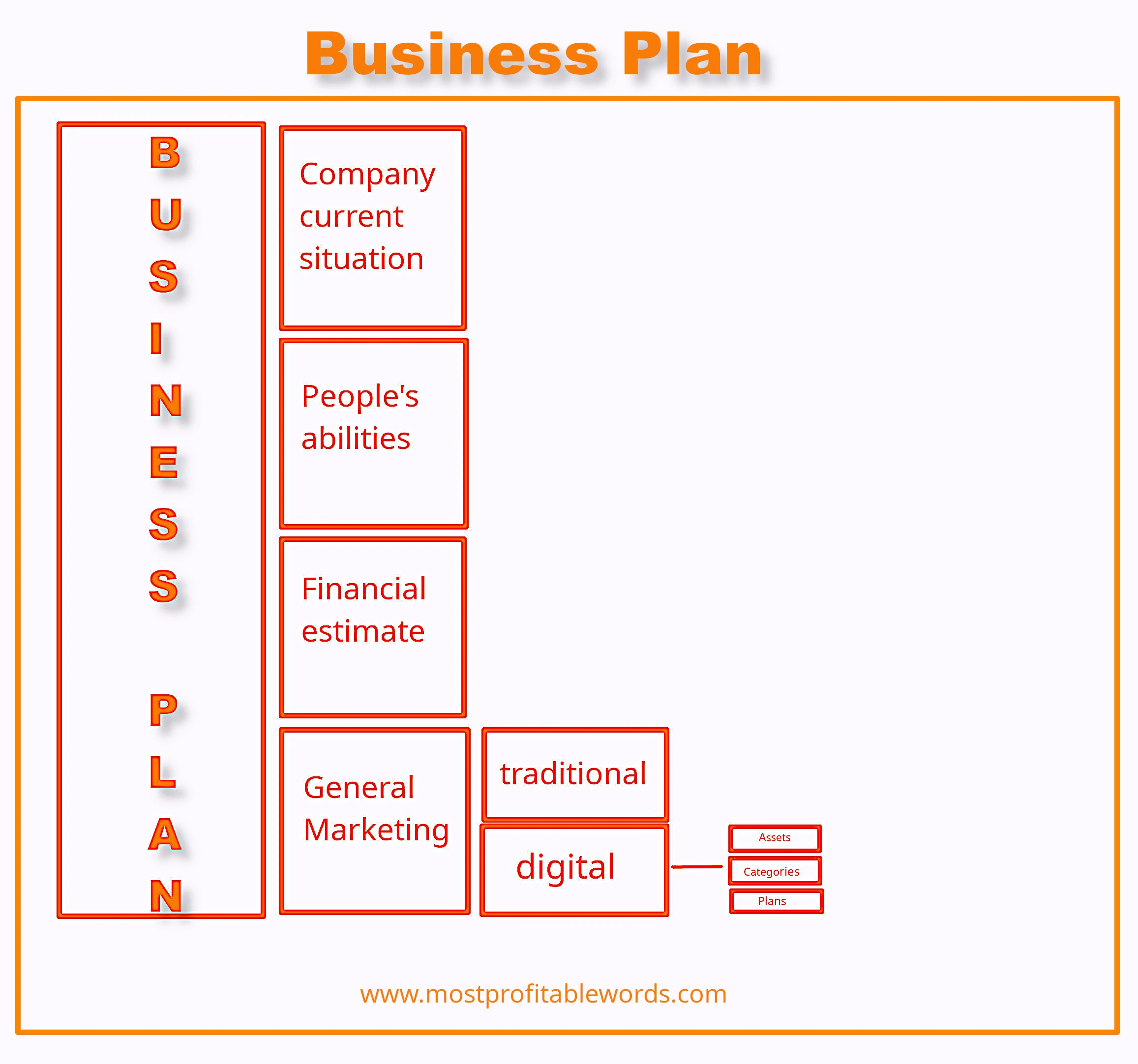 Elements of a Successful Digital Marketing Plan
Company's Current Situation
The first step to create a successful digital marketing plan to drive profit is to have a deep analysis of your company using the SWOT technique. The analysis includes external and internal situations and different areas of your business such as finances, marketing, operations, management,etc.
Strengths: what does your company do best right now. Ex. a large customer base that buys from you often.
Weaknesses: what areas need improvement or implementation. Ex-Limited creation of content, not enough traffic
Opportunities: Circumstances that help you achieve a goal easily. Ex -Cheaper technology available, tax reduction.
Threats: Disadvantages that slow down your business grow or raise costs.Ex-pandemics, inflation, credit shortage.
The most important features of your external analysis should cover industry and market situation, current trends, competition.
Target audience
One of the most important information you should get to write a compelling marketing plan is to have a good knowledge of your target audience. You need to know not only the demographic information but have a clear picture of their pain and what make them tick. Even within this group you'll have some sub groups with specific characteristics that will make you create a specific way of approaching them.
Clear messaging
Start writing a clear and attractive value proposition, that communicates people how your business service or product is different from the competition, and state the reason why they should buy from you.
This core marketing message and its variants should be the basic information that have to be aligned with your marketing goals, communication and your key indicator performance.
Goals, Objectives, Strategies and Tactics
The GOST method takes into account goals, objectives, strategies and tactics.
A goal is a broad result expressed in the form of a general statement, derived from your mission and vision and projected to plan your growth. This goal has to be achieved in a certain period of time and according to the available resources.
It's a qualitative statement and responds to the question WHAT?
Example: Goal-increase sales
An objective is one of the pieces into which a goal can be broken down. Each piece is a measurable action. This is a qualitative statement and answers to the question WHAT?
Example-Increase sales of the most expensive items by 10% each month.
A strategy is the approach you take to achieve a goal. A well-defined plan will detail your promotional activities across different channels. This will help you achieve your objectives and goals. It responds to the question HOW?
Example: create a special offer at an attractive price for a week.
Tactics are a specific promotional activity implemented to meet your objective(showcase your special offer) and execute your strategies( creation of attractive offers). Tactics answers the question HOW?
Marketing tactics are leading ideas that shape content creation to meet customers at different stages of their buyer's journeys.
Copywriting helps you create compelling content with clear messaging and measurable results.
Example: Paid ads of your special offer on a chosen social media platform.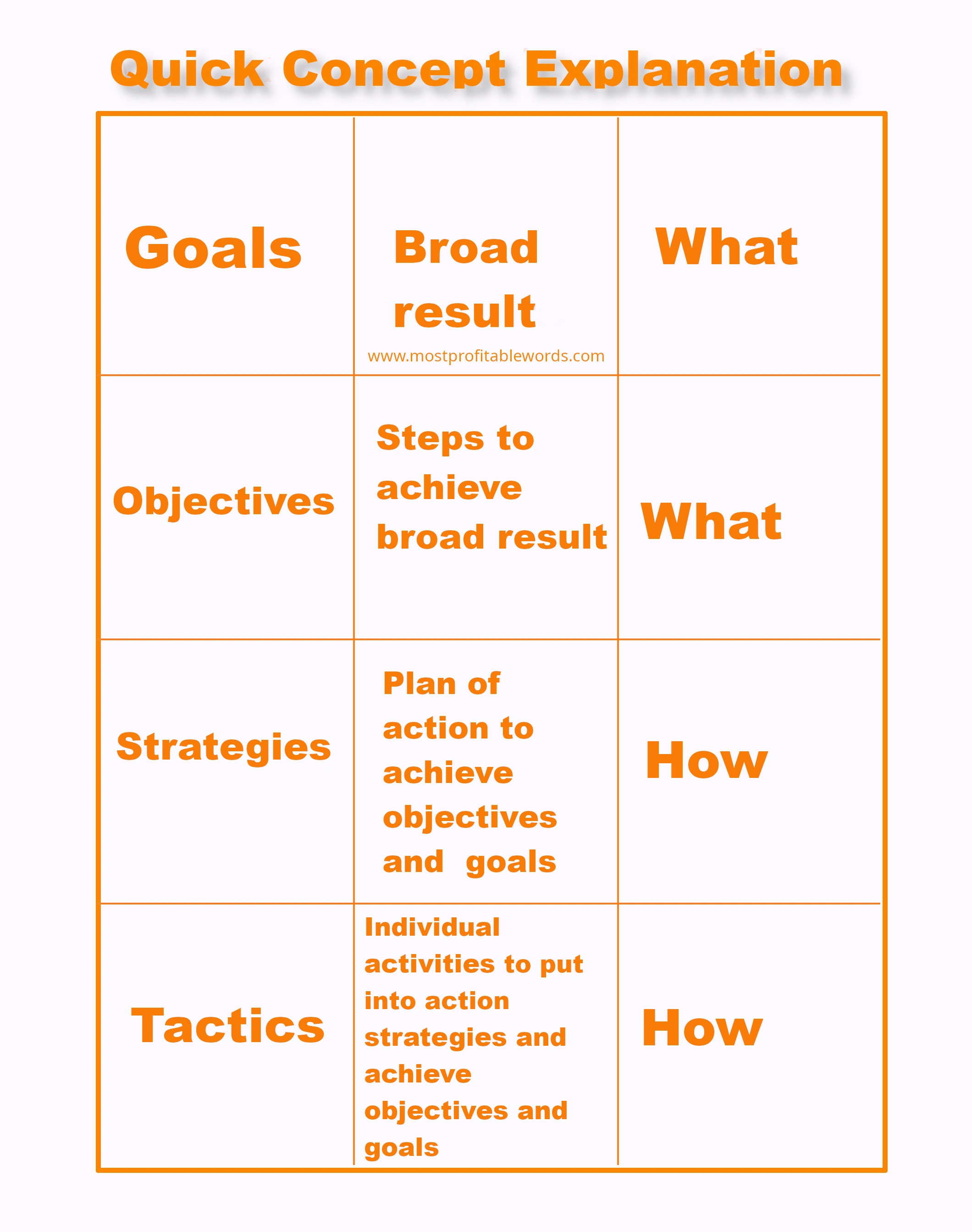 Budget
To promote your products and services and create marketing campaigns you need money. If you want to place paid ads on social media platforms, you'll need a graphic designer, a copywriter and pay your ads to be published.
So you need to know how much money you need to publish ads on social media during a week or a month. You have to bear in mind the limitations of tight budget should bring.
Measurement
When it comes to measurement, you should consider which digital marketing key performance indicators you want to quantify. This measurable goals will let you know how successful your campaign was. You may choose KIPs for a specific period of time and for a long one too, such as a year round. Your chosen goals to measure can be general or specific.
Conversion metrics are important and easy to identify and measure. Your KIPs should be aligned with your most important goals: If you are at the very beginning of your business, a growing or waning tendency can be enough to predict a future result, such as reach and engagement could be a predictor of future leads and sales.
Leads is the second KIPS. After getting enough traffic to your website or lots of followers on your social platform, those people should turn into qualified leads when they take some action. This is the beginning of your relationship with them that will lead to a purchase in the near future.
Plan for Different Digital Marketing Categories
So far, we have considered goals, objectives, strategies and tactics in general. Now it's time to understand that this set of tools can be used to organize and plan different digital marketing elements, starting with the most valuable digital marketing assets.
Biggest Digital Marketing Asset
Your website together with your company social profiles, your info about customers, and past performance and future projections, are the biggest digital marketing assets you have.
Besides these three digital marketing assets to drive profit, main digital marketing categories are:
• Web Content • Search Engine Optimization, • Social Media Marketing, • Email Marketing, • Affiliate Marketing • Paid ads
Website
Your website is your property and digital store where clients can purchase from you. That's why is your most important digital asset.
You have total control over content and design. Here you manage to create the best experience your prospects may have.Your website is the foundation of all your digital marketing.
Search Engine Optimization
SEO is the process of creating engaging content including the keywords and key-phrases people use when asking questions to search engines. This way you rank high in search engine results, get organic traffic. Marketing communication and copywriting are your great allies to succeed with content.
Web Content
With a list of the most important keywords for your business, web content is of paramount importance to be found on search engines results. No content strategy is successful without having a clear list of your primary and secondary keywords. Write content your prospects are interested in.Educate ,nurture and turn them into loyal customers.
Content Marketing Plan
A Content marketing plan is a written report that includes the tasks and resources needed to achieve a goal. In this case, your goal is to engage and persuade potential customers to build a long-term relationship with them.
This plan executes your marketing strategy and is part of your marketing plan.
To make the task easier, create a content calendar, a timetable, where you describe all the details connected with your business goals.
A content plan's calendar should include content goals, strategies, type of content you'll create weekly, keywords to be used, pictures, internal and external links, author and deadline.
Social Media Channels
Social media platforms are digital meeting places where users meet with friends, chat,share videos, photos and comment on people's post. A social media channel is also a service that let companies connect with their audience, engage them and have some feedback.
The most common reasons people visit social media channels are o hang out, to find entertainment,stay in touch with friends and get info about products before buying them.
What is a Channel Marketing Plan?
According to your knowledge of your own company and market, your value proposition, ideal customer behavior and your business goals you can create a specific channel marketing plan.
This way you'll be successful on any platform you choose to reach your audience where they hang out long hours every day.
Once you have chosen a channel, determine your goals, success metrics and budget for that channel.
The most profitable social media goals you may use are:
Acquire more leads on social media platforms.
Boost your current followers' engagement.
Make people aware of your brand on social media.
What to Include in a Social Media Content Calendar?
A social media content calendar is a compilation of your upcoming publications on all your social media channels. This calendar has to determine the publish date and time, hashtags, tags,links, copy and images or videos.
Data
In digital marketing (key indicator performance) KIPs gives you insights to create a new plan or tweak one in progress to refine and boost your digital marketing campaign.
Performance measures about the different digital marketing categories mentioned above are part of your most well-kept treasure to enhance your digital performance at every round, grow your business and drive profit.
Drive Profit with this Digital Marketing Plan (Infographics)
Keep this temple close to you every time you want to check if you're dealing with all the necessary parts of a simple marketing plan to help you grow your small business.

Conclusion
A digital marketing plan to drive profit is extremely important for your success. Prosperity takes good planning as you determine your important goals and how you will achieve them.
Planning let you have an efficient use of resources and time, and anticipate setbacks on the way to success. This way you'll be ready to solve or avoid those problems sooner than later.
Need help with your marketing plan? Contact us.