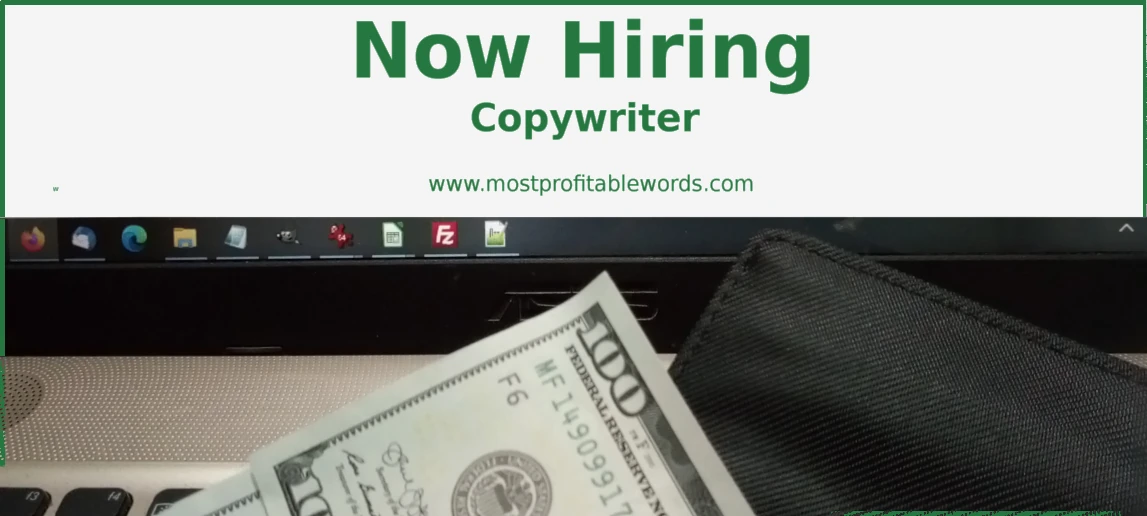 Copywriting Interview Questions
February 10, 2022
You have reached the conclusion that working with a freelance copywriter is the best solution to your current business problem.And you're getting ready to interview several candidates.
But Where can I start? You wonder.
I understand you. Don't worry. We'll help you.
Go ahead, please
Your copywriter will be valuable asset you should take care of. They will not only capture your business voice but also write that compelling copy that engages visitors and customers, skyrocketing your profits.
You'd like to hire an experienced, easy-going professional copywriter to build up a productive long-term relationship but don't know where to start.
To conduct a productive and effective recruitment process, you need to think of all the essential questions you have to ask applicants, before the interview takes place.
What Copywriting Interview Questions Should you Ask a Copywriter?
The best approach to hire a well-rounded copywriter is to analyze their previous work and take into account 4 different areas, so you can go through all the necessary topics and finally determine who is the best fit for your company.
Copywriting Experience
Copywriting process
Copywriting project management
Copywriter's soft skills
Copywriting Experience
Copywriting experience means how much work copywriters have done in any a determined market niche for products and services. More specifically, experienced copywriters have already done research, planning and creation of written copy with the aim of advertising products and services.
Copy created by copywriters generally covers printed and digital advertising, web copy, email campaigns, sales letters, blog posts, white papers, e-books, guides,video script and much more.
If they have experience in your industry that's much more interesting because they have specific knowledge of that market segment.
To assess their style and experience, have a close look at their portfolio and website to see their copy at work.
Do you feel eager to buy while reading? If the answer is yes, the copywriter is doing a good job.
What industries have you worked for? Understanding your industry and having knowledge of the total market demand, the outstanding players, marketing and selling trends will be valuable.
Industry knowledge is information about how a group of businesses that offer the same or similar products or services do work.This Knowledge comes from being an insider in that industry, and being active for a long period.
What kind of content have you written? Use this opportunity to learn what they have actually written, who for and how successful they have been. Ask them the reasons why certain slogans, ads were defined that way, how it was created and result data. Discuss what worked and what didn't.
What has been your favorite project?
Talking about candidate's preferences will let you know if their experience matches the kind of writing you will ask them to produce. This talk will also let you know a lot about copywriter's personality and her favorite process to create copy
Which copywriting project was most challenging? Why? Here you can infer copywriters' strength and weakness as that challenge put their abilities to the limit.Talking about a particular demanding activity you could learn how creative they were to solve that problem, their resilience and their capacity for team work and flexibility.
What makes successful content? Ask them to provide the key attributes of great content, such as being engaging, useful and unique.
If you want more details, bear in mind that good content is written from an interesting angle, offers information to put into practice immediately and provides a solution to problem or at least the answer to a question. Good content is based on research, includes good grammar, is free of typo errors and is optimized and formatted properly.
Additionally, good content gets comments, likes, shares and it can even get viral.
More Copywriting Questions you can Ask
Name a work accomplishment that makes you proud and tell us why.
Do you consider your content great? why?
How much would you like to learn a new type of content?
What's the role of copywriting in digital marketing?
What's the difference between branding and marketing?
Who are your favorite copywriters? Why?
Copywriting Process
Copywriting process is a set of steps copywriters should follow to create successful copy. One of the most important steps is preparation. This means copywriters need to research and collect information about the product features and benefits, previous product campaigns, target audience and more. Copywriters also have to organize this information and determine what angle they will use to persuade readers. Then comes the time to write the first draft, edit and review it.
What steps do you follow to create effective copy?
Learning about the process your strategic copywriter uses to deliver compelling copy will give you an insight to the way they work.
Basically they have to go through:
Research: gather information about the product or service, previous campaigns and their results, technical product development, customers reviews, interviews and surveys. What research, writing tools and tactics do you use when crafting copy?
Organization: With the goal of the piece of copywritingin mind they extract ideas from that information, and organize it in a convenient way.
Copywriting drafts: A work in progress will produce partially finished versions of a piece of copy. Do you prefer to stick to a detailed brief or have room for your creativity to take flight?
Edition: Correcting, changing, deleting and rearranging phrases, sentences and paragraphs.
Reviews: The way the copywriter will present their copy to the client for review. Whose feedback is most important when it comes to a piece of content?
Metrics: How do you measure the effectiveness of your work? What metrics do you take into account?
Five Metrics Copywriters Should Take into Account
the click-through rate is the number of clicks that your content gets divided by the number of times your content is shown. According to the free video platform YouTube, 50% of channels have a 2-10% CTR. This standard result can help you determine how successful your content or ads are.
the bounce rate is the percentage of website visitors that goes away from the site after viewing only one page. High rate bounce indicates you have a problem to solve. High rate bounce occurs because website visitors are not getting the information they expected. visitors are not warm enough to convert, visitors are not your target audience.
the amount of shared content means how much of your content is shared by readers on social media platforms or forward the content to friends. The content shared can be a funny video, an interesting story or a shocking news
the conversion goal rate is the number of times your pre-determined goal is achieved in reference to prospects or customers' actions.If your goal is to get subscribers to your newsletter, every time somebody subscribes your goal conversion is achieved.
the number of readers' opinions and feedback is the quantity of comments and interactions you get at the end of each piece of content.
Copywriting Project Management
How do you handle tight deadlines?
If you expect the copywriter to work on tight deadlines, this talk is imperative. Give them the opportunity to showcase their ability to meet a deadline.
They should be able to define how much time and resources they need to complete a project, understand the requirements, ask questions if necessary, order their work, be a good team communicator, know how to assign tasks to others and track every step of the project. Also they must encourage open communication and honest feedback.
How do you cope when you miss a project deadline?
Giving advance notice and explaining the reasons why they won't be able to do it is a great start when they miss a deadline. They should provide an alternative date not far away from the original one and some copywriters will offer a bonus for the inconvenience such as a discount or an extra free service.
Copywriter's Soft Skills
Soft skills are personal traits that allow a person to interact harmoniously with others and resolve conflicts in a gentle and intelligent way.
To build up a long-term relationship of cooperation you need to interact with a calm, reasonable and understandable person who manages to deal with conflict successfully.
Nobody likes to deal with a short-tempered person or somebody who gets offended easily. Communication, teamwork, adaptability and work ethic are very important traits in a copywriting candidate.
Tell me about you in two sentences
Sell me your services in a few sentences
What type of communication do you feel most comfortable with?
How do you resolve conflict in the workplace?
How do you deal with criticism?
What are your actions if your client rejects your copy?
Name three considerations you take into account when accepting a new client.
Conclusion
If you follow these tips and get your copywriting interview questions for copywriters thoroughly thought and written down ahead of interviewing the copywriting applicants, you will go through the interview successfully. You'll also get detailed and important information to choose the best copywriter to make your business thrive.
Need help with your copywriting? Contact us