What is Digital Marketing?
Digital marketing and copywriting go hand in hand whenever you promote your products or services through the internet. Marketing is in charge of the strategy and copywriting creates messages that trigger action.
April 4, 2020
Digital marketing is the promotion of products or services through digital channels such as websites", emails, social media, mobile apps and searchers. This way you connect with prospects through different forms of digital communication.
A digital channel is a device or program connected to the web through which communication takes place. Typical interfaces are social media, email, search engines.
WEBSITE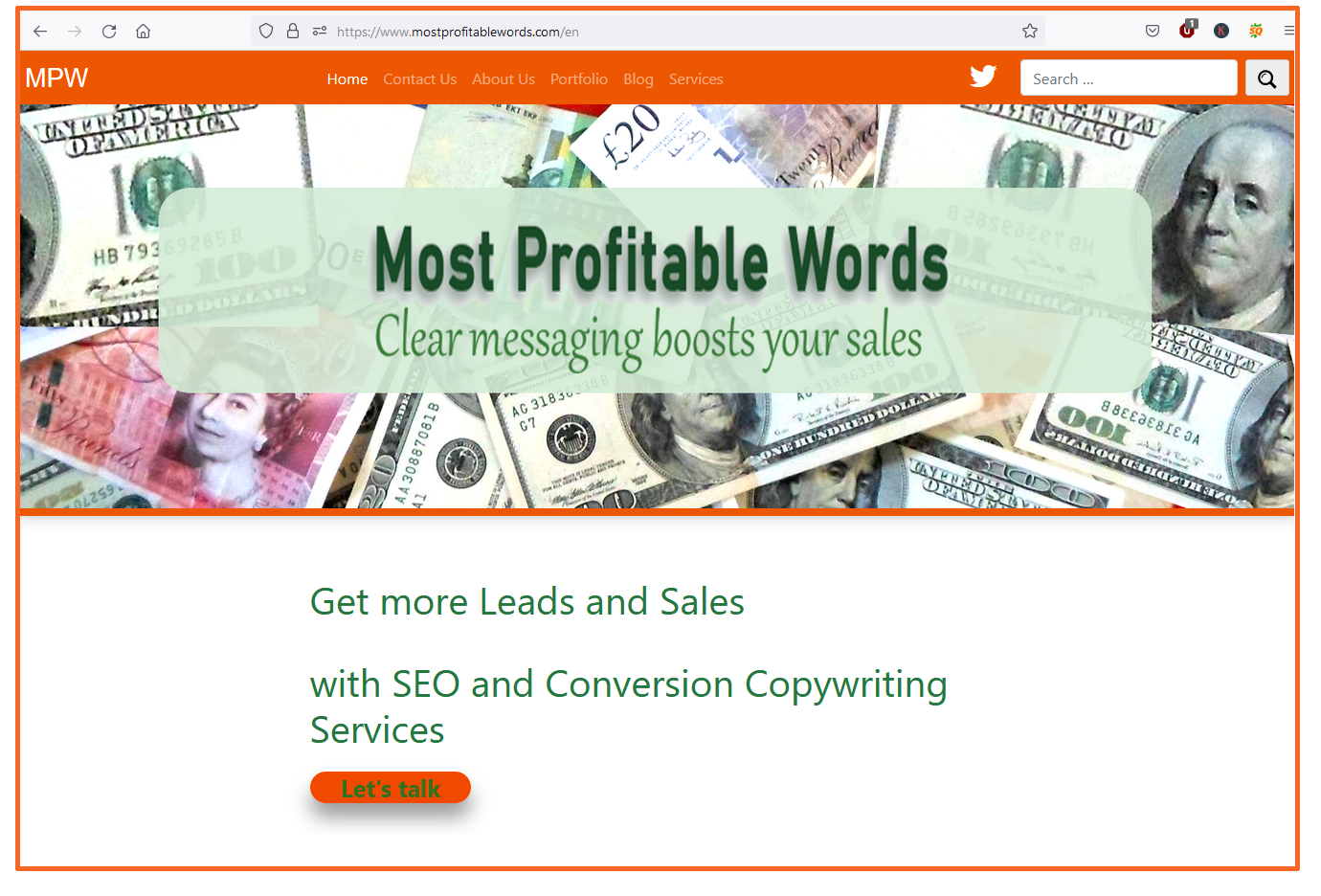 A website is a must-have tool for any small or big business that wants to have an online presence. 61% of marketers agree websites are important.
Your website is the place on Internet where your prospects can interact with your business 24/7. It's a customized platform focused only on your products. It gives you the opportunity to provide information about your products or services, create a content strategy to educate them about your products, build your mailing list and sell.
Most Common Types of Websites
Blog
An online informational website where information in the form of articles, interviews, videos, graphics, and others help update a particular topic regularly.
Bloggers write regularly about their chosen field and attract tons of followers who consider them expert in their niche. They turn into influencers who can monetize and earn lots of money online.
Portfolio
Mostly used in the creative industry, you display your creative past work and let people see your expertise and experience through it. A portfolio works as a CV and it's quite handy every time somebody wants to see your work.
Ecommerce
This kind of website is an online store where your customers can purchase your products and pay you through it.
Company Website
Most companies have a website to show the world what they do and how successful they are. They can sell through it or not. But it's a must-have if you want your company to be taken seriously in the Internet area.
80% of people make an online research before going shopping. So your company website should turn up at the right time in the right place.
News or Magazine
Newspapers and magazines have turned to an online version of their original publications and they update information constantly.
Social Media Websites
When you create your social media account be professional and consistent as if it were a regular website. Your brand and voice should be clear across all your messages to create trust and attract the right prospects.
EMAIL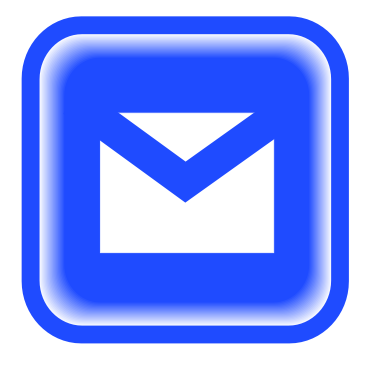 Although not new,email is still the best and cheapest marketing tool available.
Through consistent contact with your readers you are able to create a trusting, long-term relationship. If you send them valuable information you will be considered an expert in your field and will beat your competition.
Some Common Types of Emails
Newsletters
Sent regularly to those who have signed up for it,ten-powerful-reasons-to-build-your-mailing-list-fast newsletters offer helpful content from the company's blog or information about coming events such as webinars.
Promotional
Promotional emails help you engage your prospect and make them move through the sales funnel and convert. To be more powerful, promotional emails must be personalized and display an engaging subject, targeting a segment of your audience.
Transactional
When clients have just bought from you, receipts and confirmations are sent via email. This is a great opportunity to sell them up, too.
Cold
Looking for new leads you can contact people who have decision-making position in companies and invite them to learn about your product or special offer. This kind of email should be highly-engaging.
SOCIAL MEDIA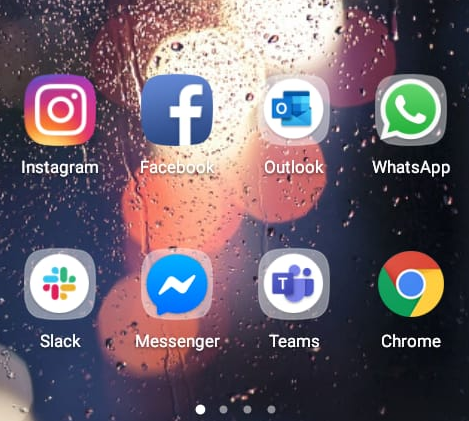 Social media is the perfect place to connect with prospects and clients, and expand your audience. Understand the needs and interests of your buyer persona and always share information that entertains and inform. As a result, you'll strengthen relationships and increase the number of followers.
You ca also used paid advertisement to reach thousands of potential prospects.
Types of Social Media
Networking
LinkedIn is a platform to meet others and exchange information about business opportunities and personal development.
Facebook is a widely-used platform to stay in contact with friends and family but it also offers business pages where you can promote your company.
Twitter is a platform to grow your network, engage in informal conversation and promote your products.
Visual Content Sharing
In an age when people enjoy visual content so much and many are visual learners, sites where you can share pictures are great to reach people's heart.
Instagram,with 150 million active members, it's a great tool to brand your e-commerce business. Use professional colorful pictures to enchant your audience.
Pinterest and its new feature of buyable pins and paid promoted pins let you put your products in front of potential clients that will bring you profit.
Snapchat, the platform the young generation love, gives you the opportunity to target your audience with snap ads and sponsored lenses.
Video Sharing
Youtube, the place where you can display your video content to meet the needs and desires of your audience. How-to videos are quite popular because they explain how to do things step by step.
Vimeo is a platform where professional film makers, marketers and editors meet to share their new creative masterpieces.
Discussion Sites
Quora, a great place to answer questions and showcase your expertise, building up authority and trust.
Yahoo Answers, a similar platform to Quora, where people ask questions to solve difficult situations and find detailed answers.
Reddit, a platform where users talk and vote about content presented by other users.
Consumer Reviews
Tripadvisor, a well-known social media where travelers share their experiences in hotels and tours during their trips.
Goodreads offers you a great selections of books with rating and reviews for regular readers and experts.
Yelp, a platform where you can find a great diversity of businesses reviews by consumers. On top of that, Google gives the platform a great priority in search engine results.
SEARCH ENGINES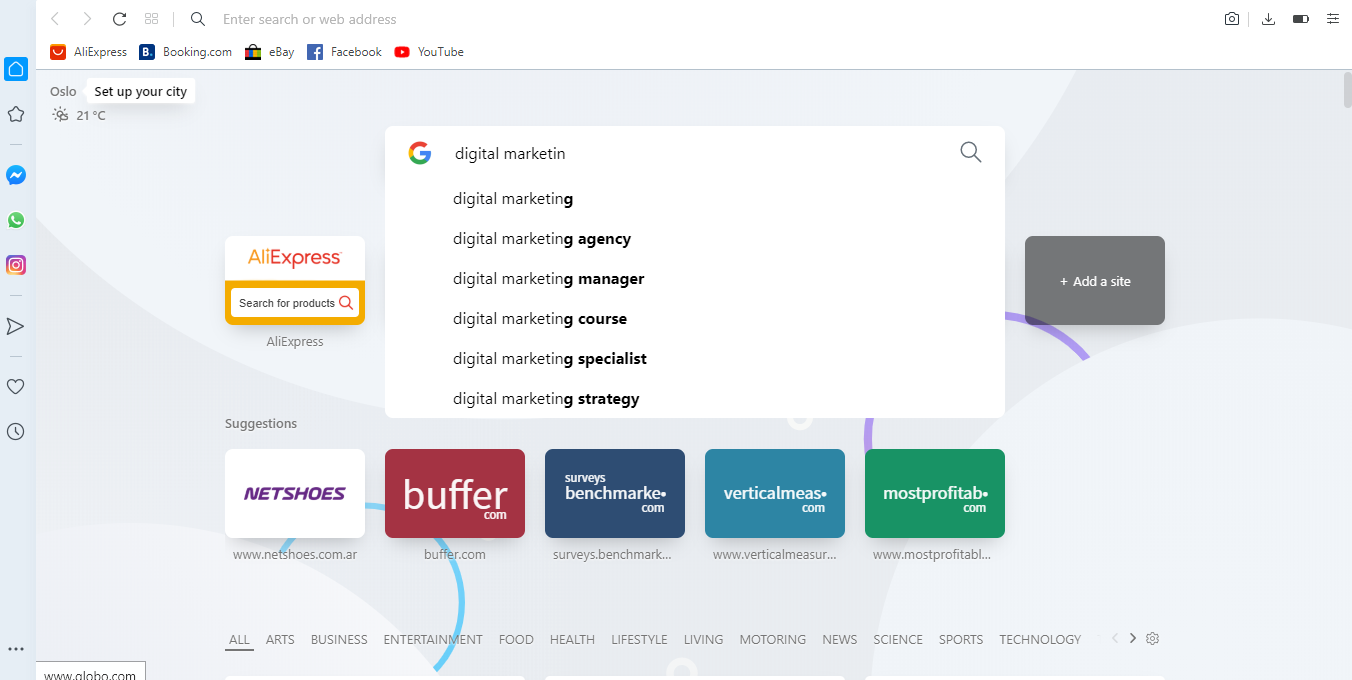 Google, Yahoo, Bing Bing, AOL are some of the most used search engines. Billions of people search the internet every day in search of information, entertainment and shopping. Keywords play an important role in matching searchers' questions with the information kept in the web.
SEO: Search Engine Optimization
SEO is the optimization of your website with searcher-used keywords to get valuable free organic traffic. SEO lets crawlers read your website easily and increase the chances of ranking high in SERPS (search engine results pages).
SEM: Search Engine Marketing

SEM is the promotion of your website with paid advertisements such as PPC (pay per click) or display ads (images, videos on different digital platforms).
SEM is based on keywords, so when a user types some of your keywords, the engine result page will show your paid ad. You only pay if the reader clicks on the ad.
What Skills do you need for Digital Marketing?
Marketing Strategist You have to develop a strategy and plan of action to achieve your marketing goals.

Sales Funnel Professional identifies what stage each prospects' group are and takes into account their needs, ways to solve their problems. Then, creates marketing strategies to nurture prospects according to their stage in the funnel and trigger their movement ahead.

Researcher Research is a great ability to be a successful marketer because before producing your content material you have to research what are the social trends, what your target audience love and what their pains are. Also, after publication you have to be able to analyzed how your content worked. How many likes, shares and comment they got.

Video Marketing Guru Video marketing is the usage of videos as tools to promote your product or service. generally this type of promotion increases engagement. You can use video to show interviews, feature products,explainer video, webinar, streaming.

Content Marketing Writer Content marketing is a great tool to share all the content you published on your blog. You can take your material to social platforms, to forums, or other blogs.

Copywriter Even if you don't write your own copy you have to understand how important copywriting is for every message you publish no matter what the goal is or what platform it is published on.

Image Wizard You have to be aware that pictures you use as part of your content have to be high-quality, has to complement the text it's accompaning and has to be optimize to do a great performance.

Search Engine Optimization ( SEO) Expert SEO is the art of optimizing your website on three different levels to get organic traffic:

on-page SEO
off-page SEO
technical SEO

Search Engine Marketing ( SEM) Specialist SEM is a strategy to get traffic to your website via paid ads which appear alongside search engine results.
CONCLUSION
As you see, you get plenty of opportunities to promote your products and services digitally. To be successful you not only need a strategy but also a good command of copywriting.
Take advantage of all these online opportunities to grow your business.
Need some help with your digital marketing strategy? Contact us.