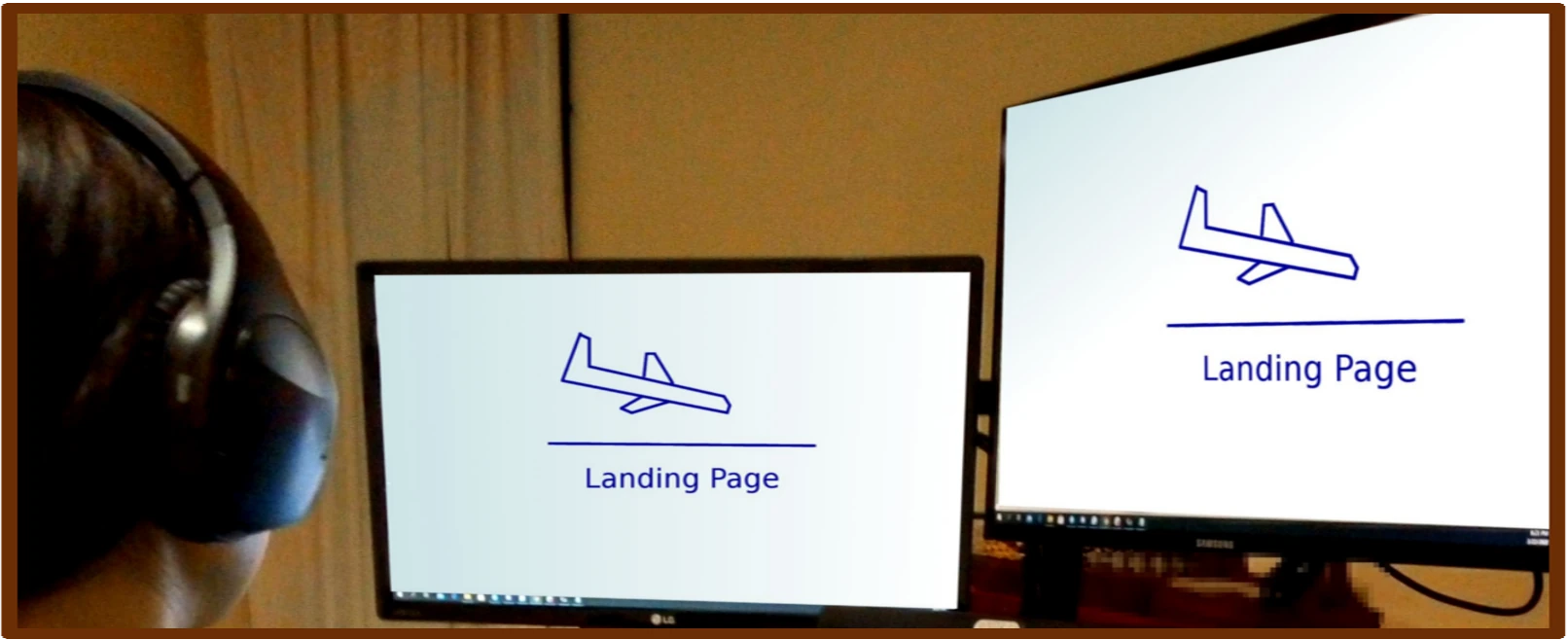 How to Write Converting Landing Pages
November 12, 2020
What is a Landing Page?
A landing page is an independent web page on which visitors "land" as a result of clicking a link presented to them in an email, ad, content or other web-page. Organic traffic or paid web promotion can also bring visitors to your landing page.
These visitors are already interested in what you offer and your mission now is to persuade them your product or service is the best solution to their problem.
The main goal of a sales landing page is to convert visitors into paying customers i.e sell your product.
The page message have to be organized and written in such a way that all persuasion principles are put in place to create a strong message and an enriching visitors' experience.
The landing page text has to describe the positive transformation visitors will go through if they use your product and take action on the spot.
Adding references to prospects' pain points and turning their objections into selling points will help website visitors be ready to accept your irresistible offer.
Are all Landing Pages Sales Pages?
No, of course not.
But all landing pages share the goal of conversion. Conversion is the action visitors take responding to your specific call to action.
So, conversion happens when prospects fill out an opt-in form to download a report, subscribe to your newsletter, request a free trial or demo, click through an email link, read your email.
All these converting activities make prospects go ahead in their buyer's journey even if they haven't reached to the stage of buying your product yet.
So, all landing pages main goal is to enchant readers, boost their desire to get what you offer and trigger their urge to take an action. Sales landing pages only goal is to sell products or services.
Main Types of Landing Pages
Squeeze landing page is a page used at the top of the funnel. With this opt-in form you only want to get your visitors' email address to start a relationship. You offer them a valuable gift in exchange for their personal details.

Lead captures landing page is a page used in the middle of the funnel to qualify your lead and know if they are actually interested in your product or service. Here you have the opportunity to get extra information about your visitor. This will let you know your audience better and tailor your messages according to their specific needs and desires.

* Sales landing page or click -through page that targets your warm leads in the lower part of the funnel.This type of landing page doesn't have a form and is completely focus on one item. So it has to avoid distractions, and should describe vividly the transformation customers will go through when using your product. This should be completed with an irresistible offer that's available for a short period of time.Benefits, social proof , testimonials and guarantee are important elements of a successful sales landing page.
Additional Landing Pages
Thank you page is a great tool to up sell extra products to your visitors or urge a repeat transaction. When your visitors reached the Thank you page they have already gone down through your sales funnel and purchased from you. According to research they are in a buying state of mind and open to buy extra things. That's why you can take advantage of your thank you page and up sell your customers.

Unsubscribe page is a page where visitors reach because they don't want to receive your emails in their inboxes any longer. Even in this negative situation you can take advantage of this webpage and make an attempt to to win them back. You can create a message showing what they will miss if they say goodbye or you can simply customize their email preferences so that they get less quantity of emails from you but don't lose them for ever.
Before Writing your Landing Page you Need to Have in Mind:
a clear goal for your landing page: The first question you have to ask yourself is what you want your landing page to achieve.

a specific target audience: Your offer should solve a problem your targeted audience is going through.For example your audience may want to lose weight but not all of them want to do it for the same reason. One group wants to become sexy, more attractive and even meet their soul mate. The other group may want to lose weight for health reasons such as high blood pressure, diabetes, etc. Each group has different pain points and so you as a copywriter cannot present your solution in the same way.

a highly-valuable proposal: You have to offer readers a convenient proposal based on the transformation your targeted audience will go through if they act right now. The value you offer has to be perceived as ten times the amount of money they pay. You can include bonuses, special price for a short time and a full guarantee.
Anatomy of a Sales Landing Pages
A compelling Headline:
A headline has the power to call attention and make the reader stop and think,
This is what I need or what I'm looking for.
The main way to make your headline stand out from the content clutter is to offer a big promise, showing how easily your prospects can solve that problem that keeps them up at night.
It has to be short and clearly expressed. A sub-headline can follow to add details to the first idea presented.
According to research 80 % of people read headlines and only 20% read what follows. So you have only a few seconds to win your reader over.
Make a Lasting First Impression with Aweber's Newsletter Templates and Email Builders

Aweber
Create a Website You Are Proud Of

Discover the platform that gives you the freedom to create, design, manage and develop your web presence exactly the way you want.

Wix
The Lead
The text you write immediately below the headline is called the lead.
The lead is an introduction where you expand the ideas you express in the headline. Here you boost the emotional connection you establish in the engaging headline.
According to Michael Materson and John Forde, in their book, The Six Easiest Ways to Start Any Sales Message, they explain that
to make up your mind what type of lead to use, you have to know the level of awareness your reader has and what he really wants.
Types of Leads
The Offer Lead: This type of lead targets at the most aware reader,who knows your product and is ready to buy. So here you only have to present your offer with price, guarantee.

The promise Lead: Here the product is not mentioned immediately but it describes the best product benefit in the headline.

The Problem-solution Lead: Here you start agitating the reader's pain points without mentioning the solution yet,engaging the reader.Then you present your product as the best solution to that product.

The Big Secret Lead: In this lead you speak about a little known system or method that can solve the reader's problem and gives you big benefits.

The Proclamation Lead: This type of lead delivers a shocking statement or future forecast that shakes the reader's unawareness. Then, you can introduce your sales pitch.

The Story Lead: Stories is a wonderful tool to engage those who are completely unaware and don't know your product at all.Tell a quick story and keep it in context with your main benefit or idea of your promotion.
Clear and Irresistible Selling Proposition
Develop your selling proposition as an extension of your landing page introduction.
Your unique and customer-centered selling proposition has to be crystal clear and valuable in the readers' eyes.
Display a list of attractive benefits that your customer will enjoy if he gets your product now.
Also, bear in mind all the objections swirling in the readers' head and answer them in your landing page. That way they will feel at ease.
I'm going to make him an offer he can't refuse.

The Godfather
The Benefits of your Offer
After introducing your unique selling offer, you naturally go into details, describing how the usage of this product will solve your prospects problem, satisfy their desire or make their dreams come true. Make a list of all the advantages the product has to offer you.
The benefits can be real like loosening weight quickly, or perceived such as seen themselves sexier or as a result of loosing weight.
Authority
When you explain why they should buy from you, flaunt your expertise in the field or how many people have already preferred your product, or how long you have been in business. Experience creates trust because readers consider you an expert. This statements help reassure readers that this is the right product for them.
More than 1.9 billion servings of our drinks are enjoyed in more than 200 countries each day.

Coca Cola
Danielle Steel has been hailed as one of the world's most popular authors, with over 650 million copies of her novels sold.

Royal
Social Proof
Adding the opinion of satisfied customers during the decision stage of your prospect's journey is paramount. They work as reinforcement, reassurance and give readers an extra push to make their next decision.
85% of people read reviews online about products.
So, it's a good idea to present your satisfied customers with a picture and complete name to show they are real people or display a powerful video testimonial.
Reinforcement Statement
Before asking for action you should recapture the main benefits your unique selling proposition offers, and strengthen how painful life would be if the opportunity is not taken right now.
21 Steps to Becoming a Six-Figure Freelance Copywriter is nothing less than a proven plan - a clear and practical guide - for turning your years of accumulated wisdom and knowledge into a lucrative freelance copywriting business.

Bob Bly
Guarantee
When you offer a guarantee you're removing the objections prospects have in their minds. A guarantee helps them take a decision easily because they have nothing to lose. They know their money is safe. They can return the product if it doesn't meet their expectations.
A good guarantee can double your conversion.
Satisfaction Guarantee: 7-Day Money-Back Guarantee or vehicle exchange.

CarHop
Call to Action
The call to action should be persuasive and exciting. A colorful and large button will make it stand out and help conversion. Place the call to action button above the fold, another half-way and the last one at the end of the page.

Now that you know what to include in your sales landing page, you can boost your profit easily.
Need some help with your landing pages?