How to Run Profitable Native Ads
Increase your engagement and revenue with native ads. This type of ads fit perfectly with the regular content of the platform, creating an uninterrupted flow between content and ad.
February 13, 2023
What is Native Advertising?
Native advertising is paid content that brands display on platforms different external platforms, such as search engines,social media, e-magazines and e-newsletters.
In-feed ads are less intrusive because they take the shape of the media the reader has chosen. They focuses on information rather than products. The content offered should be concrete, useful, simple ,specific and well-targeted to the media's audience.
Native advertising raises brand affinity. This means customers consider Brands closer to their beliefs and way of looking at life when they see their sponsored content.
The most attractive feature is their delivery method, feed stream. Ads are published and consumed in a continuous manner, embedded in the regular publishers' content and format and doesn't disrupt the users' experience. Native ads become part of the experience itself.
Although the word sponsored is displayed at the top of the ad, many a times readers don't realize they are consuming an ad and as a consequence they engage with the native ad quite well.
Search ads are also published in stream and have the look and feel of other results on the search engine display of the best website answers to the consumer's inquire.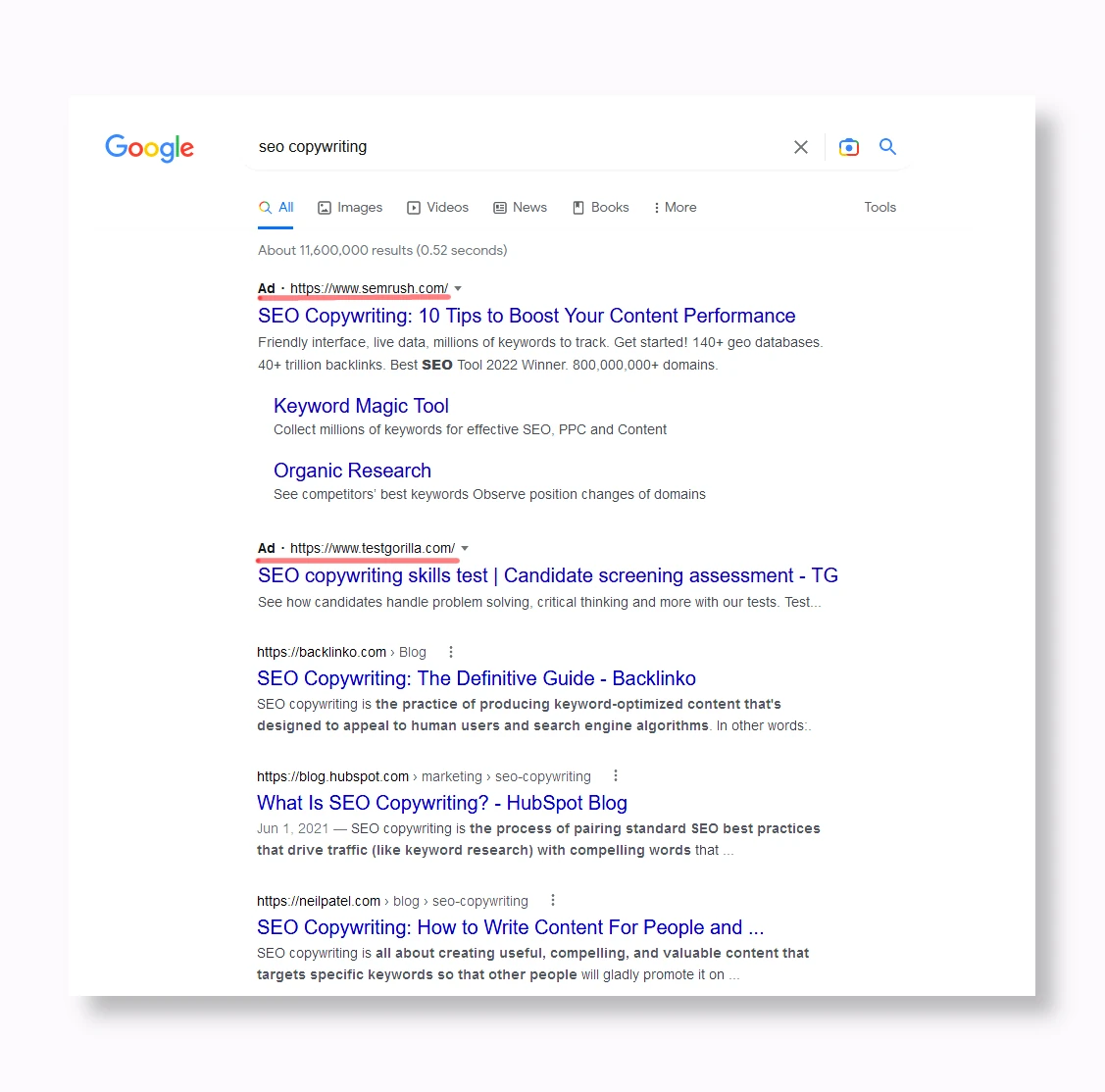 Source: Google search engine results
How to Create an Effective Native Ad
In order to create and run effective native ads bear in mind the following steps.
Have a Clear Goal
Before starting to write an ad, have a clear goal in mind.Ask yourself, what you want to achieve with this ad or campaign. Do you want to:
Create brand awareness

Increase number of followers

Get more leads

Sell products?

You decide.
Blend in your Ad
To achieve this goal bear in mind seasonal celebrations,location, time of the year and any particular events taking place at the moment.
Create special offers for Christmas, summer time and any other people are aware of those days.

Emphasize the idea of using your product to celebrate certain festivities. If you sell chocolate,trips or have a restaurant your customers can celebrate festivities with your product.

Sponsor some special celebrations and encourage people to take part with friends and family.

Run contests and attract new prospects.

Decorate your website according to each festivity
Create a Hook
With your headline call people's attention quickly. This is the most important element in your ad to catch their attention.
Ask a question

Describe a great benefit your product offer.

Use controversy.

Use facts and numbers to create an awe reaction.

Mention how many people use your product.
Address your Audience Directly
Write as if you were talking to a friend of yours, who wants to listen to your new adventures in life.
Employ personal pronouns ( YOU) and imperative.

Take their best interest in mind when write the ad, so they can relate easily.

Speak casually. Choose the terms your audience use and consider their beliefs and dreams.

Use the person's name whenever possible.
Offer Value
Reach out to offer a product or service. State clearly how your product solves a problem and makes their life easier and pleasurable.
Depending on the goal of your ad you can:
Explain benefits and offer a discounted price for a short period of time.

Provide real entertainment to create a positive experience with your brand.

Educate your prospects with free information, courses and downloadable templates, white papers and more.
Keep it Simple
When you focus on simplicity the ad carries an easy-to-understand message. People won't stop to think over what your ad intent was. Prospects just glance at the native ad and should grab grab the message immediately, or they're gone for ever. Simplicity creates an instant connection and communicate easily.
Focus on a single idea that carries a compelling message.

Express your message succinctly.

The ideas presented have to be credible.

Create contrast for better understanding and concept retention.
Levels of Awareness
Where is your target audience in their buyer's journey.? Do they know they have a problem, how many other similar solutions do they know similar to yours? Are they ready to solve their problem now?
Some prospects will be completely unaware of your product or service.

A group will be aware of their problem and they are suffering the consequences.

A portion of your audience will be aware of the solutions to their problem out there, so you have to focus on what you do better than the competition.

A bunch will be fully aware of their problem, the solution and how good your service is. These people only need a good offer to buy from you.
Add a Call to Action
It's important to inform your reader what to do to get what you offer n your ad –customize your call to action.
Depending on the aim of your ad you can use:
Learn more now.

Apply today.

Book a meeting.

Buy now.
Choose your Picture Well
The image you use should be engaging and tell a story. At the same time should be a perfect match to the ad text.
Picture should tell a story that reinforces the main message.

Image works better with a person looking at the audience.

Photos should be enhanced with picture editors to make them look professionally.

Use copywriting techniques. Depending on the type of ad, your writing will vary, but it's extremely important you create a compelling headline. Write your message succinctly

Create a killing headline.

Agitate the problem.

Describe the transformation your prospect will enjoy in his life if he uses your product.

Include social proof.
Determine your Budget
Consider how much you are ready to spend. In-feed ads result cheaper because they have a higher click rate than display ads. The click-through rate on native ads is eight times higher than display ads according to App Nexus.
Ad placement.

Digital Copywriter.

Digital designer.

Professional images.
Test your Ads
It's always a good idea to test and tweak your ad till you get the best results. You can test your headline, image, body of ad and every single element.
You may test:
Headline.

Message.

Picture.

Every element display.
Track your Campaign's Results
Some of the tools you can use Digital Analytical Tools. You will be able to measure key performance indicators such as:
Engagement.

Cost per acquisition.

Number of conversions.
3 Different types of Native Ads
Three main type of native ads are displayed i n stream according to the Interactive Advertising Bureau in its native advertising playbook:
In-feed and in-content ads. This ads turn up in between whatever type of content the readers is consuming. They don't break the reader's pleasant experience. In-feed units promote sponsored content within a natural index of articles. They see original content as part of a stream or gallery.

Source: dailymail.co.uk,comment section.

Recommendation ads, available through widgets, At the end of content publishers show you, this may interest you and they offer you similar products,services or information. This is a great way to drive traffic to your website from content recommendation widgets


Source: eddiebauer.com,shop home section

Source: Smashwords

Sponsored or Native Content. This type of ad looks and fit the format and feel of the design style of the publication. Social media uses this type of ads.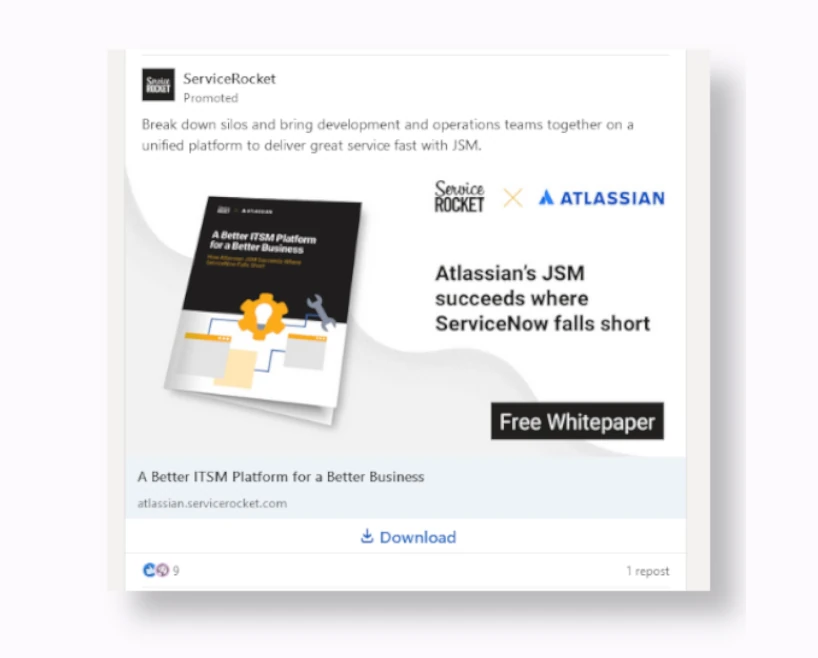 Source: LinkedIn Feed
Other Sponsored Content
Hashtags
When you add a hashtag "#" to a phrase or word on Twitter you create a hashtag. This sign links a tweet to all the other tweets that carry the same hashtag. The hashtag function is to create context for the tweet and help people follow topics they love, boosting organic reach.
On Twitter, sponsored hashtags, like your brand tag, are displayed with the look and feel of the social platform to prompt interaction with the use of call to action buttons and enhance your ad result. It's widely used to ask followers to choose between two items, such as similar cake recipes,products names , package color or design, authors' pictures,etc.
When a participant click on a chosen hashtag,twitter software automatically shows a previously composed tweet which displays the campaign hashtag. Readers answer this message and retweets the native tweet ad, including the original post. Participants will even get a thank you message from the company.
Snapchat Filters
Sonsored story filters on Instagram or Snapchat are fun to use and share while users interact with a brand in playful and engaging ways.
Filters take the appearance of interactive quizzes, editing techniques with brand names, background graphics or makeup overlays,
Some of the most popular Instagram Filters are:the little mermaid,Bubblegum and red berries, not so basic, Snow White,big city life,
BeautyPlus Cam is one of the most popular complexion effect apps. This filters lets you take great selfies from the built-in camera and edit your photo up to perfection.
Snap Ads, Filters, and Lenses are three types of popular native ads and the reason why the public use the app. They easily increase brand awareness and at the same time competition is lower than on other social platforms.
You can create a filter for your brand starting at $5, so you can advertise on the platform, even if your budget is tight.
Playlists
This type of content turns up on streaming music services.Advertisers sponsor a music station/playlist and the concert starts with an audio ad. Their logo is on display while the music list plays. A yoga institute can sponsored relaxing music for the evening, A restaurant can sponsor similar music to stimulate an enjoyable meal, a sport clothing company can sponsor a play list suitable for a workout session.
These companies can also create their own playlist and be on display when people look for radio stations or playlists ready to enjoy.
A company can sponsor different types of music
Exciting Facts about Native Ads
Here you have some powerful reasons to choose native ads to engage your customers and grow your business.
82% increase in brand awareness. ( Forbes)
53% more engagement with customers than regular display ads.( Forbes)
64.2 % of all money spent on ads was assigned to native advertising placement in 2022. ( Insider intelligence)
30% of readers use ad blockers.
Conclusion
Popular social platforms such as Facebook, Twitter, Instagram and Tumblr offer native and in-feed ads. Their well-segmented audiences assure you your native ad will be shown to the right audience.
Also, people's behavior tracking systems show native ads are extremely effective. This helps you spend less money to drive traffic to your website and make your business grow.