Tested Sentences That Sell
by Elmer Wheeler
Review by Monica Di Santi
May 20, 2022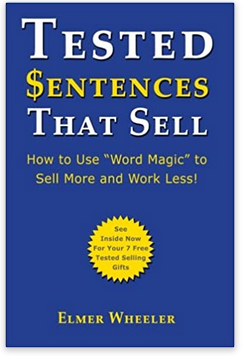 Author Wheeler is the creator of the five Wheeler points and his own principles for advertisement. He coined the so well-known phrases: "Sell the sizzle, not the steak." , "What will it do for me?".
He also introduced the idea that a sales person has to see the product through the EYES OF THE CUSTOMER; words must move the listener emotionally;speak about the benefits and provide proof,speak the language of the masses to gain a person over and, many other concepts that are used extensively in copywriting today.
Tested Sentences That Sell-Elmer Wheeler
His principles have proved to be powerful over time because they are based on Human Psychology and together with a careful choice of words, he tested and compiled the best words and sentences that work in sales. His method was based on creating short sales messages and testing them to determine what works best.
The Five Wheeler Points

Don't sell the steak--sell the sizzle
Don't write--telegraph
Say it with flowers
Don't ask if---ask which
Watch your bark---page 11
YOUR FIRST TEN WORDS ARE MORE IMPORTANT THAN YOUR NEXT TEN THOUSAND! p 17