How To Sell When Nobody's Buying
by Dave Lakhani
Review by Monica Di Santi
May 3, 2022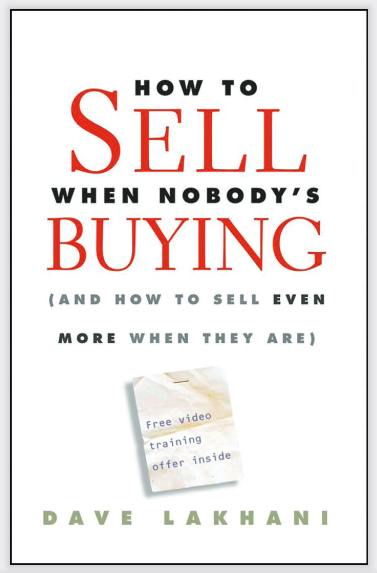 How to Sell When Nobody's Buying by Dave Lakhani is a modern practical guide that helps you learn proven and effective techniques of modern salesmanship.
The old selling techniques are not fruitful any longer because the world has become a different place. The Internet has changed the way we communicate and do business. So, the modern salesperson needs a new set of skills to succeed. This book offers you a high-value action plan to face and overcome the difficulties of this new business interaction model.
Lakhani starts his book with a challenge. He offers you a 5-day quick and effective list of activities you can do right now and create momentum to sell more. This way you'll adapt to the new way of selling and become the best sales person in your organization.
-Adopt the idea of a guerilla group. They can organize themselves quickly because they are a small group, move to the next move. p 24
You become more effective and wealthy because you're quick-witted. When you're the first to respond to new audiences' needs, implementing the solution in the wink of an eye, you stay ahead of your competition.
Sometimes, economies present tough periods. In recession times nobody wants to sell but a focused salesperson can create expansion and reap the benefits. You only have to approach sales differently. But how?
Author Lakhani expresses that focus is the key to more sales. He also includes a few steps to follow and become an outstanding salesperson. First, you have to think differently, then go deeper in your analysis and relationships.
Economies and industries change; that's not your fault. But responding to the change profitably is your responsibility. p 12.
Lakhani goes further and explains how to get visible, connected and use Google, Twitter and LinkedIn to your advantage.
The most credible people can be found in a search. If you don't turn up among the ten first engine results you have work to do. What about your competitors? Are they? If they are, check what they're doing that you miss. Build your personal brand online.
Get connected.

Create an extensive and successful network on LinkedIn.

Use the new prospecting tool at your disposal and sell more.
"What else can I sell when nobody is buying?" is the wrong question. The right question is, "How do I connect with the people who are buying what I'm already selling?" p49
Lakhani's guide also includes mass prospecting techniques to achieve your business goal quickly, and give details how to create drip campaigns. Finally he describe how to become persuasive every time you communicate with your customers.
Pitch your product to the story they tell themselves in their minds and you'll never have a lack of buyers who will say yes right now. p 70
Online and offline prospecting together with the impact of mass communication can be a extremely relevant combination to reach your selling goals. Add creativity to influence decision makers and important people around VIP prospects and you have a set of mind-blowing lucrative techniques.
All in all, Lakhani has compiled a set of online and offline modern strategies that should be turned into your must-do actions to be always the most wealthy sales person in your organization or group of colleagues .