Breakthrough Advertising
by Eugene Schwartz
Review by Monica Di Santi
June 23, 2022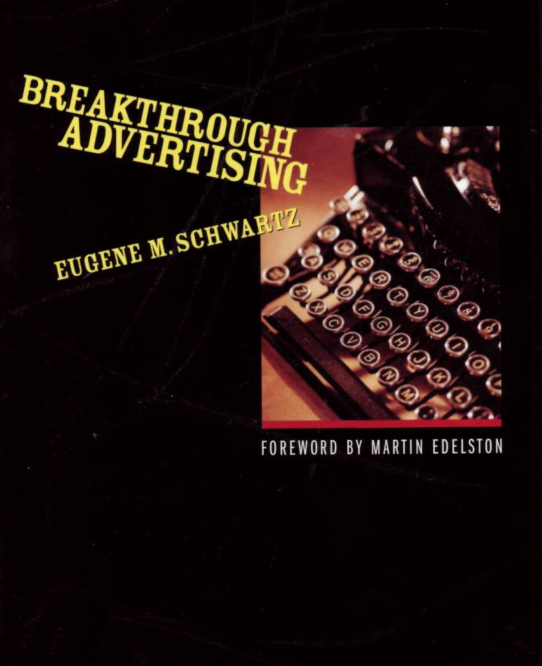 A master book of sales and copywriting, Breakthrough Advertising gives you lessons about sales, marketing, human behavior and copywriting.
Author Schwartz provides you detailed steps to go from zero to the highest understanding of mass sales, and use that knowledge to create compelling copy.
Schwartz enphasizes the need of having a profound knowledge of your audience. Being in constant contact with them will let you easily detect changes, new trends and be quick enough to use those new concepts to sell more. Also, he advices you to speak your audience own language to communicate easily and effectively.
Schwartz considers copywriters people who always splash good omens everywhere they go.
A copywriter is the script writer for your prospects dream. p 92
The first part of the book shows you how to create powerful headlines that will enhance and sharpen your prospects desires. Several chapters are dedicated to their creation, techniques to embellish them, ways of sharpening them and how to adapt headlines to different segments of your audience.
Your headline has only one job. To make your prospect stop and read the second sentence, then the third and so on. p 30
The second part of book displays all the mandatory details to write a successful ad, taking into account not only direction, structure, shift in direction, transitions, but also appropriate choice of words and reinforment of certain concepts.
When he reads your copy he's talking with you and you are providing him ideas, images and emotions. p178
Schwartz outlines the writing process carefully, from draft through edit to proofreading and perfect presentation.
To the previous theoretical framework, he adds the analysis of well-written ads to show his techniques at work.
Large promise is the soul of advertisement p 49
Also, this great author describes how to develop profitable ideas, write catalogs, brochures, annual reports, flyers, commercials, multimedia, radio comercials, web copy and much more.
Schwartz also proposes a deep knowledge of your "physical product" to be able to explain the "functional product" and give it a personality that will turn the product into a winner.
All in all, Schwartz pours out all the copywriting secrets he has piled up during the years in this book. So take advantage of finding them all together in the same place and .become a powerful copywriter soon.
Need help with your business communication? Contact us